Brend haqqında
Founded in January 2008, AVer is a leading developer and manufacturer of educational and corporate visual solutions. With a wide portfolio of products ranging from visualizers and HD video conferencing systems and conference cameras, AVer products have a significant impact on the way we communicate and learn. AVer employees are determined to provide intelligent solutions that not only meet the needs of users, but also exceed their expectations.
AVer is headquartered in New Taipei City, Taiwan. The company employs about 500 people worldwide, with R&D staff accounting for 30% of the staff. Through technological innovation, AVer holds over 195 patents covering a wide range of technologies. AVer products have won numerous international awards such as iF Design Award and Red Dot Award, CES Innovation Award, Worlddidac Award, Taiwan Excellence Award and Good Design Award.
Education solutions

AVer provides schools with the latest and greatest in technology, offering a range of products that allow educators to mix and match to create solutions that work best for them. With AVer technologies, schools can effortlessly deliver the latest educational content to their students using modern technologies such as flipped learning, interactive learning and distance learning. The AVer range includes a variety of HD visualisers (document cameras) for any environment; charging carts for tablets, Chromebooks and laptops; software for interactive learning; and smart cameras for distance learning.
Cabinets for charging and synchronizing devices

AVer provides schools with convenient mobile device management solutions in the form of charging carts and cabinets. Available in a variety of sizes, these carts and cabinets not only provide convenient charging and storage, they can also protect devices from theft or vandalism with a sturdy steel frame and three-point locking. In addition, they have a number of ergonomic features that ensure maximum ease of use for teachers, as well as design elements for safe use in environments with young children.
Systems for distance learning

Thanks to distance learning, students can meet people from different countries or take courses at other schools without leaving the classroom. AVer's distance learning solutions provide schools with Full HD video, high-quality audio and a range of features that enable students to truly communicate with peers or other people across schools or even countries. AVer visualizers (document cameras) can also be integrated into distance learning to demonstrate vivid presentations. All classes can be easily recorded using the one-touch recording function.
Visualizers (document cameras)

AVer visualizers (document cameras) combine high-quality images with innovative functions and convenient design to create incredibly vivid presentations. AVer has visualizers for every situation: wireless visualizers can be easily moved around the classroom, USB visualizers are compact yet powerful, flexible arm visualizers can present objects at any angle, mechanical arm visualizers are extremely durable, and lightbox and powerful optical zoom are integrated on the platform.
Software for education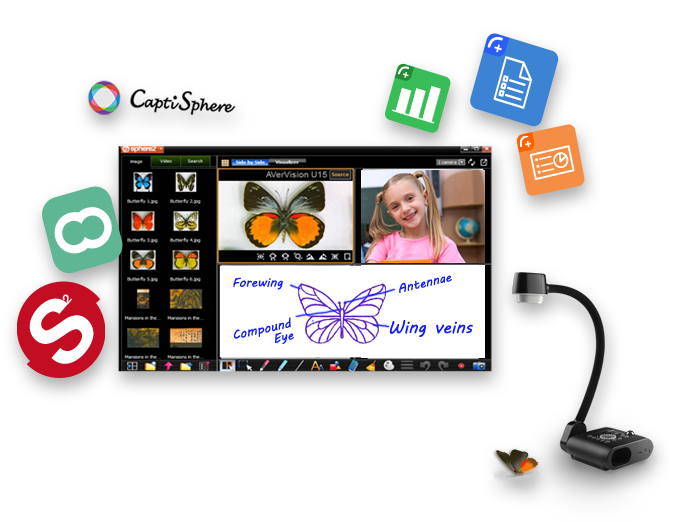 AVer's Sphere2 software provides intuitive tools for creating lessons, preparing for classes, recording and more. Teachers can effortlessly integrate a range of teaching methods into their lessons, such as flipped learning, blended learning and traditional curricula. In addition, Sphere2 allows teachers to more easily access a range of visualizer features, creating more vivid annotations, engaging presentations and classroom interactions. Teachers can even send images to students' devices, and students can then add their own annotations and send the images to the teacher.
Medicine solutions
AVer's solutions allow to reduce the overall costs of health care systems and ensure a carefree life for the citizens of the society. Premium cameras with medical-grade design and advanced artificial intelligence, optics and image processing technologies for telemedicine, telemedicine and live surgery applications offer an intuitive user interface and optional software. AVer solutions can effectively connect people and help meet clinical needs while providing timely care to patients in a variety of clinical settings.
Business solutions
AVer continues to advance the vertical integration of video conferencing and the development of software and hardware applications for both individual and collective meetings. Through the use of mobile software combined with a multi-point video conferencing system, a traditional conference room meeting can be easily streamed to desktop computers, laptops, tablets or mobile phones. In addition, the EVC camera family, equipped with PTZ technology and an array of microphones, provides clear images and sound in real time, allowing business users to conduct small or large video conferences as easily as face-to-face meetings.
USB conference cameras
The AVer VC family of cameras includes professional cloud conferencing cameras and portable universal conferencing cameras that allow users to get rid of the complex devices of a traditional video conferencing system. Only a USB connection is required for crystal clear and smooth video conferencing.
Video conference systems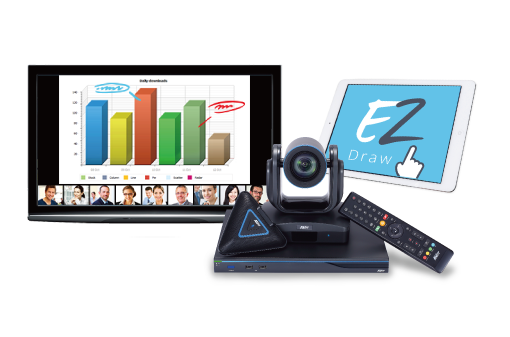 The AVer EVC camera family offers PTP and multi-point video conferencing systems, compatible with a variety of professional video conferencing equipment in all types of meeting rooms and suitable for real-time multi-location meetings. The powerful zoom lens of the cameras offers excellent image quality at different distances, and the highly sensitive microphone arrays detect and identify different voices so that everyone involved can be heard clearly.