Children ask many questions. They are interested in everything: natural phenomena, everyday things, people's lives, their own existence. Same Toy sets will help parents to encourage children to learn about the world. Scientific experiments at home will contribute to the development of logical thinking, the discovery of new abilities. They will teach you not to be afraid of new things, not to succumb to difficulties and simply diversify your leisure time.

Volcano eruption
Product code: 609UT
With this set, a child (alone or in the company of friends) will be able to recreate the process of a volcano eruption. The experiment is absolutely safe, because it is based on the interaction of soda and citric acid. The set contains reagents, when they are mixed, they will form a chemical reaction that simulates the eruption of a lava flow. The elements are enough to conduct dozens of experiments. The instructions contain not only instructions for conducting experiments, but also general information about volcanoes, their classification and a description of the processes, occurred with lava.
Complete set: plastic volcano model, protective glasses, 5 ml syringe, plastic stirring stick, plastic reusable cup, 2 powder bottles (pink - citric acid, and white - soda)
Material is plastic
Package size (w x h x d) is 20.5 x 15.5 x 7 cm
Weight is 250 g
Recommended age is from 10 years

Solar system. Planetarium
Product code: 2135Ut
The set helps to create a three-dimensional model of the Solar system, consisting of 8 planets and the Sun. Children will be able to expand their worldview, learn interesting information about the structure of the Universe, and also improve motor skills. The peculiarity of the set is that children need to assemble the planetarium with their own hands and color the models of space objects. If you use a special paint, a shimmering effect will be created and the model will glow in the dark for a certain time. "Planetarium" can be used as a scientific school project. All parts in the set are certified and safe.
Complete set: plastic stand, bracket, rotating mounts for planets and the Sun × 8, metal rods × 9, models of the Sun, planets of the Solar system and cardboard decorative element "Saturn's Rings", sandpaper, paints, brush
Material is plastic
Package size (w x h x d) is 21 x 18 x 6 cm
Weight is 190 g
Recommended age is from 8 years

Detective set "Fingerprints"
Product code: 607UT
The "Fingerprints" set is not like ordinary toys. Its main purpose is not so much entertainment as the development of analytical thinking. The child learns to think consistently and logically, to analyze and compare facts, to classify and identify similar features. It is in detective work that observation and composure are most valued. The set contains tools that detectives use to detect fingerprints. All elements are made of safe plastic.
Complete set: brush, magnifying glass, safety glasses, sticky tape, badge, impression pad, air pump, paper impression forms, talc/baby powder bottle
Material is plastic
Package size (w x h x d) is 18 x 6 x 21.5 cm
Weight is 258 g
Recommended age is from 10 years

Water purification system
Product code: 611UT
This set demonstrates the operation of a small water purification plant. Thanks to it, children will be able to track the process of water purification through the geological layers of the Earth, learn more about the water cycle in nature. Demonstration and research take place on a cross-sectional model of the earth's surface.
Complete set: quartz sand, activated carbon, granite crumb, porcelain sand, paper filter × 8, sponge filter × 2, plastic parts for assembling the filter, sodium bicarbonate, aluminum-potassium sulfate
Material is plastic
Package size (w x h x d) is 20.7 x 15.7 x 6 cm
Weight is 302 g
Recommended age is from 10 years
Same Toy puzzle games
Same Toy puzzles are one of the easiest, fun and affordable ways to teach a child to think. They do not require special skills, knowledge, abilities and physical strength from children and adults. Any puzzle is a simple task, and all that is required to solve it is ingenuity and intelligence. And... a drop of patience. Solving puzzles is not only useful, but also an exciting activity. A puzzle game helps to spend leisure time with pleasure, calm down and focus. And a large variety of products allows you to choose entertainment taking into account the age, interests and preferences of the child.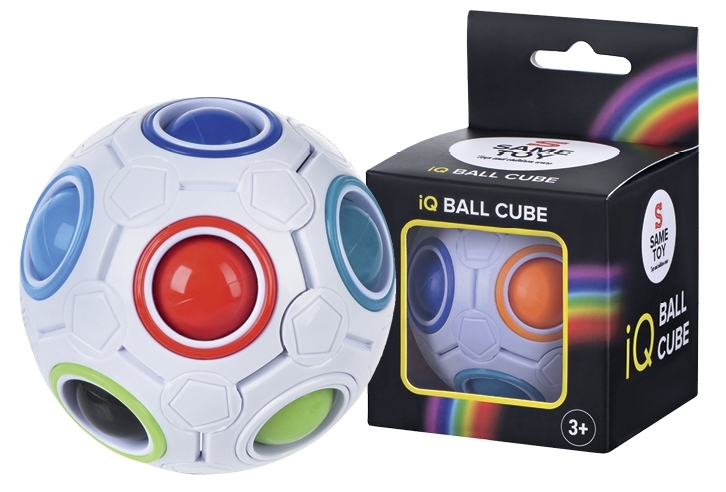 IQ Ball Cube training puzzle
Product code: 2574Ut
An abstract puzzle toy with the plastic ball shape. Inside are 11 smaller colored balls and 12 holes, 11 of which are colored to match the smaller balls.
The task is to place each small ball in the hole corresponding to the color. In principle, the game is similar to "tag", because there is a free hole and other balls move inside the ball. With this toy, you can arrange competitions, for example, put together a puzzle for speed or try to beat your own previous record. To diversify the game, you can try to arrange the balls not by color, but on the contrary - so that no ball corresponds to the color of the cell. You can play the ball alone or have a fun competition with friends.
Main advantages:
ergonomic design (ball diameter is 8 cm);
the ball is comfortable to hold with one or both hands;
contributes to the intelligence development and the IQ level increasing;
teaches the ability to concentrate, develops fine motor skills and logical thinking skills;
the game is made of high-quality material.
Specifications:
Package size (w x h x d) is 8 x 8 x 8 cm
Puzzle size (w x h x d) is 8 x 8 x 8 cm
Material is plastic
Weight is 0.120 kg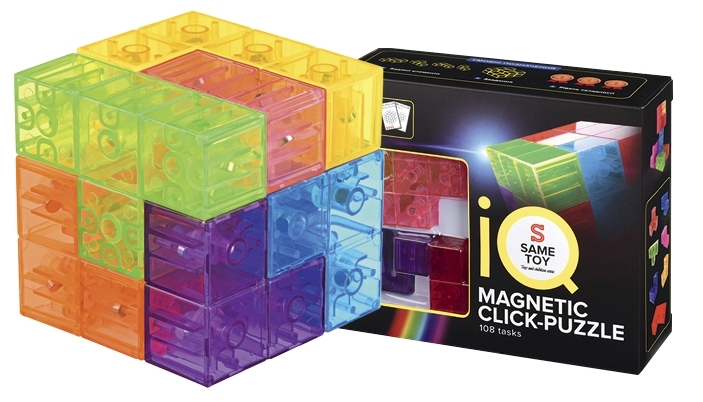 IQ Magnetic Click-Puzzle
Product code: 730AUT
When assembled, the magnetic click puzzle has the cube shape, it consists of seven blocks of different shapes and colors. The set contains 54 double-sided cards with 108 tasks of various levels of difficulty. It is necessary to arrange the parts according to the instructions on the card to assemble the given figure. Thanks to the magnets inside the blocks, the parts are easily connected, forming a single structure. A large number of combinations can be assembled from the seven separate pieces of the magnetic click puzzle. The game will give pleasure not only to children, but also to adults. Such a puzzle develops the imagination and requires the manifestation of ingenuity and creativity.
Main advantages:
develops intelligence and helps to increase the IQ level;
promotes concentration of attention;
forms spatial thinking;
is a family game;
promotes socialization.
Specifications:
Package size (w x h x d) is 18 x 15 x 7 cm
Puzzle size (w x h x d) is 6 x 6 x 6 cm
Material is plastic
Weight is 0.28 kg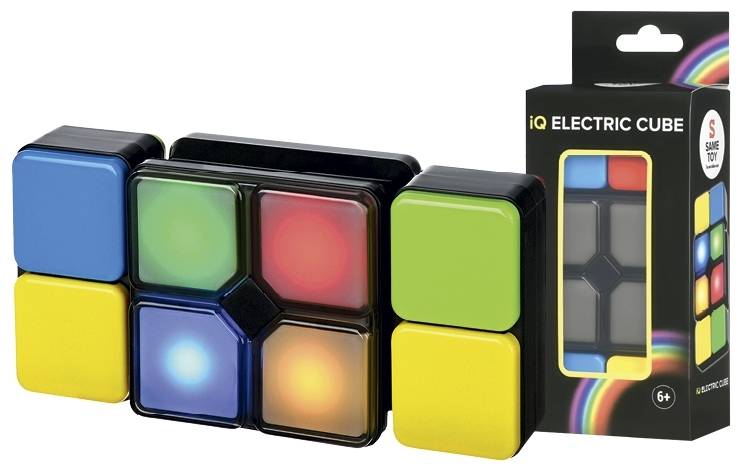 IQ Electric cube puzzle
Product code: OY-CUBE-02
IQ Electric cube is an exciting puzzle for the whole family, it combines rhythmic music and game. It is a wonderful gift, you can spend your free time having fun, connecting loved ones. IQ Electric cube is equipped with LED lighting. The central part consists of a display that is divided into four blocks that change color during the game, and two side blocks that have two colors on either side. The task is to match the colored blocks with the lights - turn the square according to the light hint so that it matches the color of the display. The toy works in four modes: speed, memorization, endurance and multiplayer. Each of the selected modes has more than 10 difficulty levels.
IQ Electric cube develops ingenuity, trains hand-eye coordination, develops intelligence and the ability to think logically.
Main advantages:
more than ten levels of difficulty;
volume control;
4 game modes: speed mode, memory game, endurance game, multiplayer mode.
Specifications:
Package dimensions (w x h x d) are 9 x 5.5 x 20 cm
Puzzle dimensions (w × h × d) are 7.5 × 5 × 15 cm
Material is plastic
Weight is 0.254 kg